Our Mission Statement:
The goal of ARISE is to provide public, mass transportation to all of Tallapoosa County in a safe and clean manner.
Open to the Public

Handicapped Accessible Vehicles

Keep your independence.

Sit back, relax enjoy someone else doing the driving.
ARISE Hours Of Operation:
Fares are charged according the age and distance. Call 256.329.8444 for fare information.
OFFICE HOURS:
Monday, Tuesday, Thursday and Friday:
8:00 a.m. to 4:00 p.m.
Wednesday:
8:00 a.m. to 12:00 p.m.
ARISE Schedule of Vehicles:
Alexander City: Monday - Friday
Dadeville, Camp Hill: Tuesday
Jackson's Gap: Tuesday
New Site: Thursday
Ourtown: Monday, Tuesday & Thursday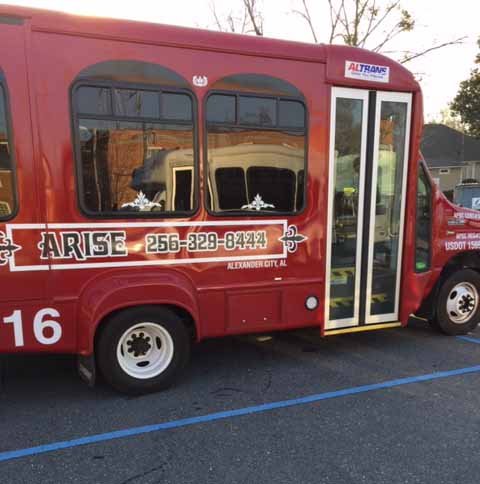 Who We Are:
ARISE is the Section 5311 Transportation Provider for Tallapoosa County in Alabama.  ARISE is open to the Public, all ages.  ARISE is demand response transportation with 24 hour call in advance to reserve your space on vehicle.  ARISE picks up at pick up point requested (point of origin) and transports to requested destination.